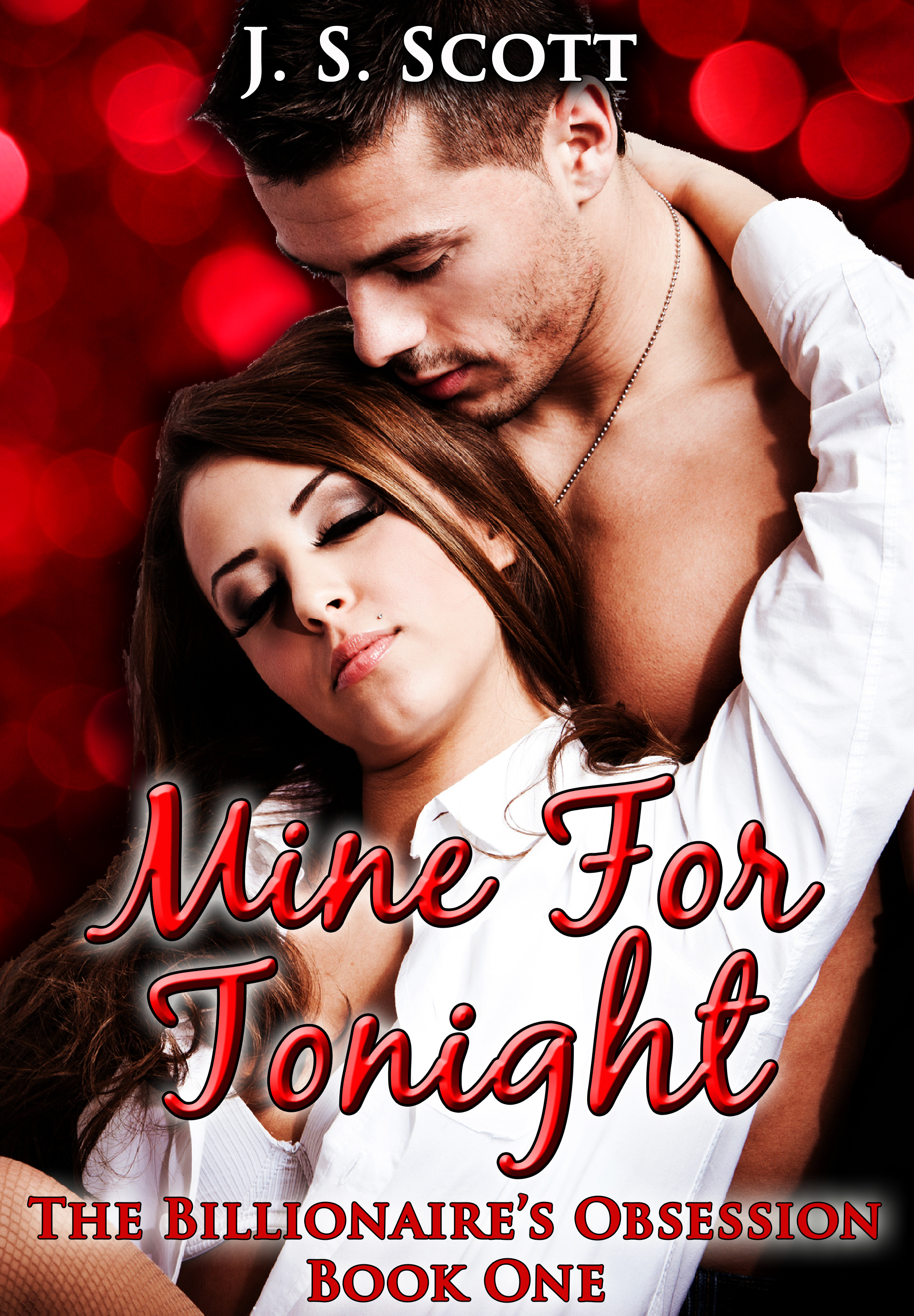 Nothing says sexy like a brooding billionaire. I mean, in a world of car payments, nine-to-five nightmares, and student loans hanging over people's heads like spiders on their bedroom ceilings, it can be a lot of fun to daydream about a billionaire lover who will take it all away. Unfortunately, a lot of them are really bad, like Fifty Shades of Writing So Bad I Want All The Characters to Spontaneously Combust. The damsel in distress routine can also be sadly lacking plot and character development, like in The Doctor's Slave. However, Mine for Tonight is definitely one of the good ones.
Down on her luck, nursing student and full-time waitress Kara Foster gets a massive blow to her already desperate financial situation that will surely find her living on the streets. Needing nothing less than a miracle to save her, Kara gets rescue from an unknown, unlikely and overwhelming source. Billionaire Simon Hudson makes her an offer that is impossible to refuse, but terrifying to accept from a man that she's never met. Will the handsome, alpha billionaire really be a solution to her problems, or will he end up being a major complication and a danger to her emotional sanity?
Reclusive billionaire Simon Hudson would rather be behind a computer creating computer games than rubbing elbows with the elite and he knows exactly what he wants…until he meets Kara Foster. Something about Kara touches Simon in ways he's never experienced and definitely doesn't like. For over a year, Simon watches over Kara, but stubbornly refuses to admit his desire to possess her, not even to himself. But when she ends up in a situation that could very well be her destruction, Simon steps up to help her, not realizing that in saving Kara, he might very well be salvaging his own soul.
What I Think
I have to admit, I picked this book up because the heroine's name is Kara. I mean, how perfect is that, right? And I really liked this book. It was difficult for me to not get a little creeped out by Simon. Like, what stable-minded person follows someone around for over a year without even meeting her? I know he's more like a guardian angel wanting to protect her and less like a stalker wanting to kill her, but really. There's a difference between socially awkward and asking for a restraining order. But I loved how much he cares for Kara. Even though he's a private person, he's willing to open up his home to her without payment. (Yes, he does ask her to sleep with him, but he makes it pretty clear that that part is optional.) He's definitely damaged, as is Kara. She's struggling with a lot of things, like her last relationship which crashed and burned, and her parents' deaths. Being stuck in nickel and dime mode after years of supporting herself makes it hard for Kara to accept Simon's help, especially when he likes to spoil her. Her inability to stay indebted was why Simon gave her the sex payment option to begin with, although she ended up taking it because she wanted it. I really liked how hard-working she was. She's not a traditional damsel in distress to be sure, and she keeps her independence even after Simon takes her in. Long story short, it didn't take me long to buy the entire series.
What Others Think
As much as I loved this book, it's pretty clear that it's not for all audiences. I mean, this book does nothing for the feminism movement. Simon is supporting Kara financially while she goes through college and she pays him back by cooking and then sex (which I don't really count because she wanted him. The deal they made earlier seemed like just an excuse to get into bed). To add even more to gender stereotypes, Kara is going to become a nurse and her last job was waitressing. Simon is a video game designer and an entrepreneur with his brother, Sam, who supported them with construction work before their company took off. Fem Escape pointed out a couple of things that I didn't think about, like how the doctor that sees Kara when she faints is an old man. That's a trend in romance novels? I haven't noticed that at all, honestly. She also said that this book is like a study in why America sucks, which is a pretty amusing way of looking at it. Fem Escape actually does have a pretty good review of this book, and I recommend checking it out. VDub at Romance Between the Sheets has a way more favorable review of this book and also brings up the point about condoms. Kara and Simon take each other's word for being clean before having sex and Kara is on the pill. I understand her point of view about that, but it doesn't bother me too much.
But one of the one-star reviews on Goodreads does bother me. It calls it hardcore porn. This isn't even close to the level of hardcore porn. Yes, there's a blindfold and handcuffs used but that's it. No whips, no third (or fourth, or fifth) person, not even sub/dom names used. It's actually a lot tamer than Fifty Shades of Grey, and I'm not even sure I would go far enough to say that even that epic storm of crap is hardcore. The text equivalent to the hard stuff lurks in the dark corners of ebook retailers, only to be found by those who know what they're looking for. Books like The Invitation* and Amber's Agreement are way more hardcore than The Billionaire's Obsession could ever be.
I definitely give this book 5 out of 5 stars. It's the first in a serial, so don't expect a happy ending at the end of it, but it's a free ebook on Smashwords. I would love to know what you thought of this book, so please leave a comment below.
*This is an affiliate link, so I get a small commission from this link. By purchasing a book through this link, you are enabling my addiction to herbal teas, buying more books, and slave-free chocolate, as well as giving to charity.